Here are the websites that I have created:


Drusilla's Lair v4.0 - A sneak peak at my WIP major upgrade to Drusilla's Lair. It's coming along slowly, but well so far, and I'm pretty happy with the design. The banner uses the same font as the number 30 banner on this website, featuring my created font.
silverlair - Has now been totally updated and uploaded. Finally, the bio and discographies are complete! Kudos go out to OoCities for being so kind as to archive the old website before the free Geocities web hosting was taken down, and it was how I found it again. Unfortunately the original can no longer be viewed as Oocities appears to have been since taken down, but this version is very much still as it was with only minor changes.
Drusilla's Lair v2.0 - I found this through Wayback Machine, a website archive that takes periodical snapshots of the net at a certain location on random dates. Surprised to find front and main pages intact!
Drusillas Lair v3.1 - The previous version which had been online for 5 years. It had hung in there! It has since been upgraded to what you see now.
Drusilla Designs - An in progress version of a possible business site I was working on but got shelved.
Community Help Compass - In its early stages, this was a Search and Support Dot Com (Work for the Dole) project I had worked on in 2004, when it was still called Northern Help Finder - we never completed it before the 6 months was up, so that, too, was shelved (this is just a mock version).
silverchair Tribute Page - the very first silverchair page I created, I often shortened it to STP (apologies Stone Temple Pilots). It's a shame I don't remember much about it, and that this image was all I could find on the online archives, however it did last a while, but would have lasted nowhere near as long as silverlair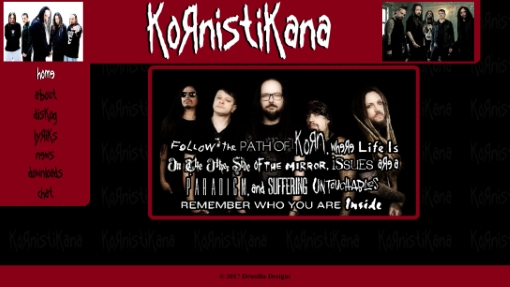 Kornistikana - A work in progress site about American band Korn. Design inspired by previous website designs such as Drusilla Designs and silverlair. Not yet online.




Last updated: 04 October 2019



This website was created by Vanessa Lucas
© 2004 Drusilla Designs